Hair Transplant Cost
Hair Graft Cost
For most people, the cost of a hair transplant is a major concern. This concern often poses a number of questions about hair transplant costs, specifically when comparing the costs of other hair restoration options. The two most frequently asked questions are, "how much does a hair transplant cost?" and "how much do you charge per graft?"
We have a simple pricing scale that determines cost on a per-graft basis.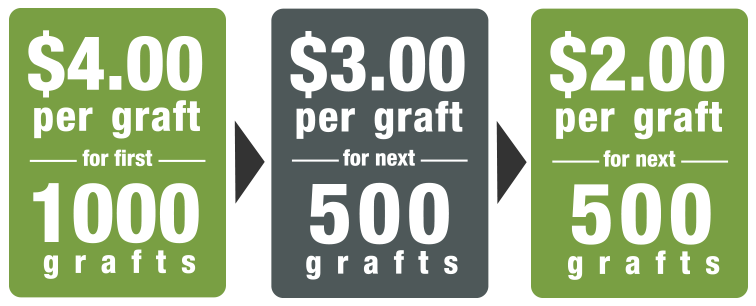 Hair Transplant Surgery in Kansas City & Liberty, MO
For more information about hair transplant surgery cost, schedule a consultation with Dr. Scott Darling. During your appointment, Dr. Darling will discuss your desired outcome and explain your hair restoration options, including surgical hair transplant and non-surgical hair restoration treatments. Then, based on your needs and your budget, Dr. Darling will help you decide which option is best for you and provide you with more accurate information on hair transplant cost in relation to your specific situation.
To schedule your hair transplant consultation, call Darling Hair Restoration at (816) 792-3400 or use our online form to request an appointment.