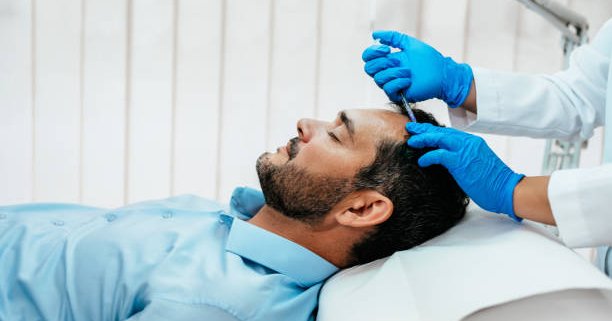 Are you experiencing hair loss or thinning? Are you disappointed with the results of over-the-counter hair loss products that fail to deliver on their promises? If so, visiting a hair loss doctor may be your best bet. A hair loss doctor is a qualified and skilled medical professional who has extensive training and experience in treating issues related to the scalp and hair growth/loss.
Hair loss doctors perform comprehensive clinical evaluations to find the cause of hair thinning and hair loss, such as stress, genetics, aging, malnutrition, medical conditions, certain prescription medications, and more. Then, they plan the best courses of action for hair restoration.
This article talks about some common surgical and nonsurgical techniques hair loss specialists employ to curb hair loss and thinning, and where you can go in Kansas City to get these procedures done.
Surgical Techniques
Common surgical techniques a hair loss specialist can perform for hair restoration include:
Follicular Unit Excision
Follicular unit extraction (FUE) is a hair transplantation method in which the doctor harvests small, naturally occurring units of individual hairs and transplants them to the recipient area one by one. FUE is a suitable method for those who prefer to wear their hair very short, as there will be no visible scars with this method. FUE results in a natural-looking hairline, as the doctor places each follicle at their own discretion, giving them the ability to uniquely craft the hairline.
Follicular Unit Transplantation
Follicular unit transplantation(FUT) is another technique for hair transplantation in which the doctor harvests a linear strip of hair and tissue from a donor site and dissects it to get hundreds of tiny follicular units of hair. These follicles are then grafted into the bald area of the scalp. FUT hair transplant is especially helpful if you have significant hair loss and don't wear your hair short.
Corrective Hair Transplant
As the name indicates, this is a revision hair transplant surgery in which a doctor corrects previous hair restoration. Corrective hair transplant fixes the artificial appearance of a previous hair restoration procedure to better meet the patient's desired goals.
Minimally Invasive Techniques
A hair loss specialist can also perform nonsurgical and minimally invasive techniques to stimulate hair growth. Some of these techniques can also be used in combination with surgical techniques. They include:
Platelet-Rich Plasma (PRP) Therapy
Hair loss specialists offer PRP therapy for hair loss treatment. PRP is prepared using a patient's own blood and is simply a concentration of blood plasma, which contains high levels of platelets, cytokines, and growth factors. PRP therapy enhances the healing process and boosts the growth of new hair.
ACell+PRP Therapy
Hair loss doctors also offer a combination of ACell (a product that facilitates the body's ability to repair itself at the cellular level) and PRP therapy to promote healing and improve graft survival during a hair transplant. The doctor obtains PRP from your body, mixes it with ACell, and injects it into the scalp.
Allograft + PRP Therapy
In this technique, the doctor uses a combination of allograft (the use of a product that is derived from amniotic tissues and contains collagen, hyaluronic acid, cytokines, growth factor proteins, and secretomes) and PRP to protect targeted hair follicles from the miniaturization process. This combined therapy also renews hair that has already begun to decline.
Stem Cell Therapy + PRP Therapy
During this treatment, your doctor takes stem cells from your body's fat tissue, combines them with your PRP, and injects the mixture into your scalp to reverse the shrinking of hair follicles. This combination is especially beneficial if you are in the early stages of hair loss or if you are not a candidate for a hair transplant.
Experienced Hair Loss Specialist in Kansas City
If you have a hair loss issue and seek a lasting solution, trust Dr.Scott Darling of Darling Hair Restoration. Dr. Darling is a highly skilled and experienced hair loss specialist who has decades of experience treating hair loss in both men and women. Dr. Darling will evaluate your hair loss and explain your treatment options – surgical and nonsurgical – and recommend a solution that is best for your budget and need.
To make an appointment with Dr. Darling, call us today at (816) 792-3400 or use our online request form now.
https://darlinghairrestoration.com/wp-content/uploads/2022/07/istockphoto-1401577251-612x612-1.jpg
408
612
Dr. Darling
https://darlinghairrestoration.com/wp-content/uploads/2019/07/dhr-logo-1.png
Dr. Darling
2022-07-15 17:36:38
2022-07-26 18:12:28
Techniques You Hair Loss Doctor Can Perform