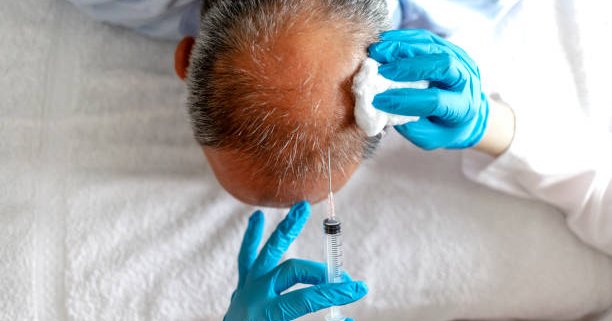 Millions of American men and women suffer from hair loss by mid-life, but did you know your hair loss has a successful, long-term solution? It's the ACell hair transplant.
An in-office surgical procedure that grafts hair follicles into thin areas and rejuvenates them with PRP injection therapy, ACell hair rejuvenation is wonderfully successful.
Let's talk about ACell hair transplant, how it is performed, and where you can go in for effective hair loss treatment.
The Reasons for Hair Loss
Hair loss goes far behind gender and age. In fact, researchers trace it to a deficiency of the hormone, DHT, and the hereditary tendency to lose hair over time. Without DHT, hair follicles in specific areas of the scalp lose their ability to grow healthy, thick hair shafts. As a result, scalp hair thins or is lost altogether.
An Innovative Hair Loss Solution: ACell Hair Rejuvenation
ACell Hair rejuvenation combines the transplant of the patient's own hair follicles with PRP injection therapy. Performed with the benefit of local anesthesia right in the hair loss clinic, the one- to two-hour ACell rejuvenation procedure adds the ability of the patient's concentrated platelet cells injected directly into the scalp.
Because blood platelets (collected from the patient and concentrated in a centrifuge by the professional team) contain healing and growth factors, the PRP injections reactivate dormant hair follicles and revascularize the thin spots. Slowly but surely, hair starts to regrow, filling the areas of thinness or baldness. Plus, the growth factors actually increase a youthful skin protein called collagen and suppress excessive shedding, which adds to hair loss problems.
The platelet-rich plasma injections are comfortable, fast, and cause no appreciable downtime for the hair loss patient. There is some site bruising and mild redness, but these resolve within a day or two. Is ACell Hair Rejuvenation a Long-term Hair Loss Solution?
That's a frequently asked question. In fact, ACell may need a few booster injections from time to time. However, the full hair growth resulting after your initial transplant and injections lasts many years without any additional treatments–from one to seven years. For maximum benefit, it's important to begin this innovative procedure immediately after hair loss becomes noticeable.
Get Back Your Self-confidence Through ACell Hair Transplant Solutions
In the Kansas City, MO, area, Dr. Scott Darling and his team at Darling Hair Restoration provide customized hair loss solutions to people of all ages. Dr. Darling will confer with you, examine your hair and scalp and discuss your medical history. He also will ask you about the hair loss patterns you see in your first-degree relatives. With his findings, Dr. Darling can recommend the hair loss solution just right for you.
We encourage you to contact us for an individualized, in-person consultation at (816) 792-3400. Ensure to ask about ACell hair rejuvenation. It may be the solution you've been looking for.
https://darlinghairrestoration.com/wp-content/uploads/2022/09/istockphoto-1319858286-612x612-1.jpg
408
612
Dr. Darling
https://darlinghairrestoration.com/wp-content/uploads/2019/07/dhr-logo-1.png
Dr. Darling
2022-08-12 20:48:04
2022-09-19 21:04:52
ACell Transplant: Is It a Long-term Solution?